Israeli Yocheved Lifshitz, 85, was captured on camera reciting the Hebrew word for peace, "shalom," while holding the hand of a hooded fighter who had most likely served as her jail guard. She had just been freed from Hamas's underground cells.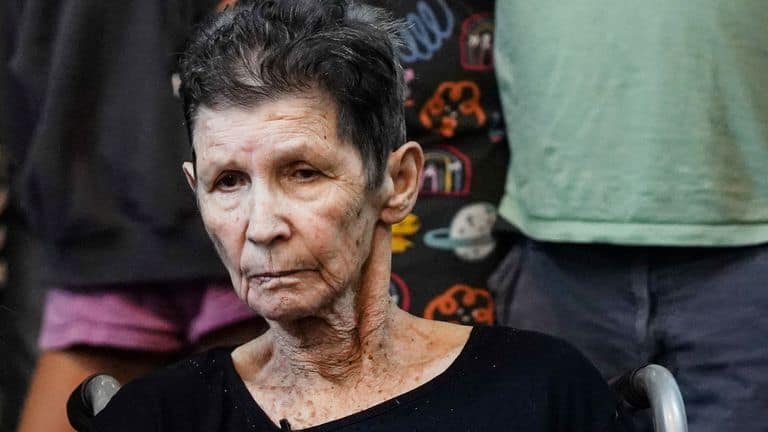 Ms. Yocheved Lifshitz stated that despite a terrifying and violent abduction from her kibbutz, she had received fair treatment while in custody. Image courtesy: Google
It was an astonishing human moment in a horrifyingly divided society. Ms. Lifshitz claimed during a news conference that she had received good treatment while in prison in spite of her terrifying and violent apprehension from her kibbutz.

From Captivity to Compassion: A Hostage's Remarkable Journey
Being a peace campaigner, Ms. Lifshitz's opinions undoubtedly affected what she said, as did the likelihood that she was aware that her spouse was still detained by Hamas.
Also Read: Less Known Facts About Raquel Welch: Her Life And Message 
But in these dark times, Ms. Lifshitz provides a crucial lesson: rather than an urge for vengeance that rewrites history and initiates a never-ending cycle of assault and retaliation, a small act of kindness toward someone who stands in for your enemy can halt time and demonstrate in an instant that we are all human.
Israelis experience hurt and rage. Heinous crimes have been committed by Hamas, including the murder of 1,400 people and the kidnapping of 220 more. However, the administration of justice need to take place inside an organized framework that shields innocent Palestinians from punishment.
Best Laptop To Gift On Christmas: Top 7 Laptops For Gaming And Work From Home
The number of deaths from Israel's offensive on Monday was the most for a single day since the conflict in Gaza began. 
Common Humanity: Uniting Israelis and Palestinians to Break the Cycle of Violence-Ms. Yocheved Lifshitz
Thus far, about 5,700 Palestinians have lost their lives; almost half of them were youngsters. Israeli troops' war crimes against Palestinian civilians are not excused by Hamas's war crimes against Israeli civilians.
Gaza's hostages must be allowed to leave in large numbers. Most Israelis are aware of the suffering caused by unnecessary anguish.
This week, a survey conducted on behalf of the advocacy group Avaaz found that 57% of Israelis "support a plan wherein the Israeli government releases Palestinian children held in Israeli jails, in exchange for Hamas releasing the children and families it holds hostage."
Any Israeli administration should never consider abandoning citizens, but time is running out to save women, children, and the elderly from Hamas's clutches.
With US President Joe Biden advocating for extra time for hostage negotiations and pushing for the delivery of supplies to Palestinians, shuttle diplomacy has been beneficial.
An "immediate humanitarian ceasefire" in Gaza is something that UN Secretary General António Guterres has called for; this is much better.
The World Health Organization issued a warning, stating that as clinics in the coastal enclave run out of fuel, hundreds of hospital patients' lives are in threat. The world's conscience would be stained by their unnecessary deaths.
Israel needs to look toward the future. Mr. Guterres is correct when he says that the Palestinian people have endured a "suffocating occupation" for 56 years, and the Hamas attacks "did not happen in a vacuum."
There is a better solution than irreconcilable conflict for what comes after Hamas. However, the political establishment in Israel has long since come to believe that peace with the Palestinians is unattainable. This could develop into the risky assumption that it never will be.
Both Israelis and Palestinians are caught in an endless cycle of seeking revenge for injustices done to them. The opposite side doesn't think that the score has been equalized, even when one side believes they have got their revenge.
Endless devastation is the eventual result. The recent history of violence in the area has been catastrophically determined by this. However, for their violence to become a thing of the past rather than the present, both parties must be able to see themselves as they see one another.
The events taking place in Gaza and Israel represent a new phase in the Middle East war. The latest attack and the ensuing war have already had devastating implications and will likely continue to influence world politics for years to come due to the scale of the losses.